Previously only available in 400 and 1000ft cinema reels, we now offers Kodak Eastman Double-X Black and White motion picture negative film (5222) in convenient hand-rolled 35mm canisters of 36 exposures x 1 roll!
===  Official Introduction of EASTMAN DOUBLE-X Black & White Negative Film 5222  ===
 
http://motion.kodak.com/motion/Products/Production/Black_And_White_Films/5222.htm
Black-and-white negative films from Kodak have been a creative story telling tool for decades. EASTMAN DOUBLE-X Negative Film 5222 / 7222 has the subtleties in tone scale that you've come to expect, and now it's been optimized for physical performance. Features include a scratch-resistance backing and a process-surviving top layer, allowing:
Better camera transport

Reduced noise in the camera

Improved raw stock keeping

Decreased risk of ferrotyping
Designed for general production use outdoors and in the studio, in dim light, and anywhere you need greater depth of field without increased illumination. This high-speed camera negative film has excellent image-structure characteristics.
Create your story through light and shadow with a film optimized for beautiful images and reliable performance.
Double-X Compare to Tri-X have more tolerance and different particle style, if you like to shoot B&W films, please give it a try!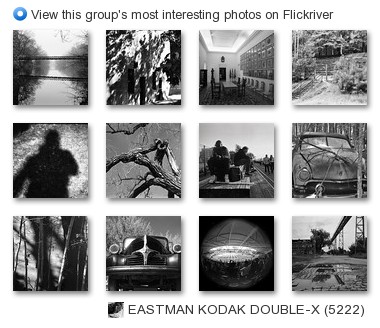 ==============   Motion picture films    ==========
The films made for motion pictures must be capable of being enlarged and projected on the big screen on the cinema, therefore there are strict requirement for the quality and tolerance of the films made for movie industry. Negative films for motion picture have super tolerances of about /- 15EV, therefore even 500D/500T (with very high light sensitivity) films have very fine pigments. 
The color tone for motion picture negative films is different compare to color negative films. If you haven't tried motion picture negative films, why not try and see ?! You will certainly find yourself addicted to filming motion picture negative films!
===========      What is hand-roll bulked film?     ===========
All the films sold by us are the films made for making motion pictures and are hand-rolled in to canisters. They are suitable for used in a 135mm camera and comes in 36 exposures in one canister. We've tested our hand-rolled films in local market and respond is great. So we can garantee our hand-rolled films is scratch-free and fresh to shoot.
The Bulk film loader counter runs from S to S. Usually if using most film camera could shoot 35-36 exp. If use Auto Film Loading/Advancing camera could shoot down to 33-34 exp due to camera design.
We use  200 or 400 ISO canister on 250D, use 400 ISO canister on 500T and 400T, use 100 ISO canister on 100D. If you purchase 250D on auto-DX camera please check the film canister when you received. Auto-DX camera may need to do EV /-. We will label every film with correct film name as product picture presented.
===========      Our Film Stock Quality     ===========
The number of film used for motion picture industry reduces hugely through out the years as majority of film making resources have been cut.  All of film sold by us are kept in a huge film freezer under -10 degrees C so customers can purchase and use with a ease of mind.
==============   Film Shipping Notice   ==========
ATTENTION
: We will label "CAUTION: FILM, PLEASE DO NOT X-RAY" on the package while shipping, and in our experience, ASA/ISO lower 400 are not affected by the security X-RAY. 
However, please purchase at own consideration.
======   Black & White Motion picture Negative films Development Knowledge    ==========
B/W Movie Film Dev cart
Film
Developer
Dilution Ratio
ASA/ISO
Develop Time(min)
Temp

Note

Kodak Eastman

Double-X 5222

D-76
1:2
200
11
20C
 
D-76
stock
250
7
20C
 
D-76
stock
250 (200)
6
21C

Tungsten 200,

daylight 250

D-76
1:1
250
10
20C
 
D-76
stock
400
9
20C
 
D-96
stock
250 (200)
7
21C
D-96
stock
250 (200)
6.5
21C
Info provided by photographer online.
D-96
stock
400
7
D-96
stock
800
7.5-8
D-96
stock
1600
9.5-10
D-96
stock
250 (200)
6.5
20C

Info. provided by photographer online.

D-96
stock
1600
25
20C
 
HC-110
B
200
5
20C
 
HC-110
B
250
6
20C
 
HC-110
B
400
6.5
20C
 
Rodinal
1:100
25
3
20C
 
Rodinal
1:20
200
5
20C
 
Rodinal
1:60
200
7
20C
 
Rodinal
1:50
250
11
20C
 
Rodinal
1:50
400
11
20C
 
Rodinal
1:50
800
18
18C
 
Rodinal
1:20
1600
10
20C
 
Rodinal
1:300
6400
8 hours
20C
 
TMax Dev
1:4
400
6
20C
 
Xtol
stock
250 (200)
7
20C
tungsten 200, daylisght 250
Xtol
1:1
250
10
20C
 

Kodak Eastman 
Duplicate 5234
Duplication Film

D76

Refer to 5222 data

 
HC110
 
Dektol (D-72)
stock
6
5
24C
Continuous shaking for first 60 second, then shake for 5 secs per min.
Dektol (D-72)
stock
12
7.5
24C
Dektol (D-72)
stock
25
12.5
24C
Xtol
stock
6
13
20C
 
D-96
stock
6
7
21C

5234 Kodak Develop Information

The same as 5222 (info. provided by some postproduction company in Taiwan)
Information Reference: http://www.digitaltruth.com select Eastman Double-X
 D96 Formula
metol
1.5g 
sodium sulfite
75g 
hydroquinone
1.5g 
borax (decahydrate)
4.5g 
potassium bromide
0.4g 
Add water to 1Liter
 D96 Formula 2
 Page 89, Film Developing Cookbook, Anchell & Troop. (
Kodak labs)
750 ml distilled H20
Calgon 1 gram
Na Bromide 0.35 gram
Sod. Sulfite Anhydrous 15 gram
L Ascorbic Acid 2 gram
Metol 1.5 gram
Borax Pentahydrate 3.8 gram
Sod. Sulfite 60 gram
Water to make one litre. 
Provide By Buyer Feedback
Package Include
35mm /  36 exp / Kodak Eastman Double-X B&W Negative Film (5222)
 
This auction contains 1 Roll.